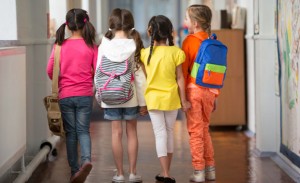 The LaMarsh Centre for Child and Youth Research is a collaborative group of faculty and students that supports community-engaged interdisciplinary research in health, education, relationships and development of infants, children, adolescents, emerging adults and families everywhere.  View our brochure:
LaMarsh Research Centre Brochure
Our research programs are based on three common themes:
1. Research on youth, defined as the first two decades of the life span. The problems of youth are of broad concern not only to the academic community but also to society at large.
2. Factors and conditions that place youth at risk for maladaptive outcomes, both physical and psychological. Risk factors of interest include ecological, social, behavioral, and physical conditions that impede well-being.  This focus includes applied research that investigates programs designed to prevent risky behavior, such as violence or HIV/AIDS risk.
3. Programs that promote positive physical or mental health in youth. The scientific study of risk implies a complementary examination of factors which protect against risk and promote resiliency. LaMarsh faculty members are committed to research which promotes positive youth development.
The Centre's research agenda has shifted from its original focus on violence and conflict resolution to a focus on children and youth, including children and youth at risk.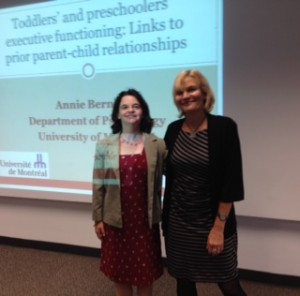 Professors Annie Bernier, (University of Montreal), and Yvonne Bohr (Past Director of LaMarsh Centre for Child and Youth Research), 2014.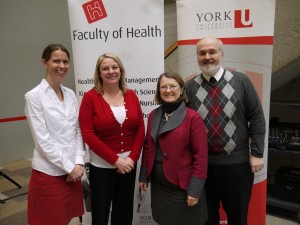 LaMarsh Members (Left to Right):  Dr. Jessica Fraser-Thomas, Dr. Alison Macpherson, Dr. Debra Pepler and Director, Dr. Gordon Flett.
The following topics are a sample, representative of areas currently under investigation by LaMarsh members:
• Bullying
• Girls' aggression
• Dating Violence
• Healthy peer and romantic relationships
• Cognitive flexibility in childhood
• Violence prevention programs
• Risky sexual behaviour
• HIV/AIDS education and risk
• Epidemiology of childhood injury
• Youth sport and psychosocial influences
• Developmental trajectories of mood disorders in Aboriginal youth
• Perfectionism
• Injury prevention
• Media constructions of gender identity and violence
• Decision making and cognitive abilities in youth with ADHD
• Anxiety prevention among youth from high-risk communities
• Developmental asynchrony and resiliency in teenage mothers
• Preventing maltreatment in parent-infant dyads
• Parenting and culture
• Risk in vulnerable infants of immigrant and transnational families
• Knowledge mobilization in child mental health