2019
June, 2019 - LaMarsh Annual Graduate Student Symposium: "Innovative
Research Methodologies: Enhancing well-being of children and youth, their families and communities."  Coordinated by LaMarsh Leadership Award recipients:  Bianca Bondi, Attia Khan, and Justeena Zaki-Azat.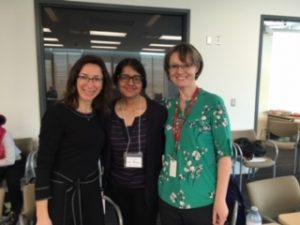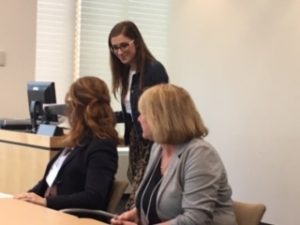 Keynote Speaker: Dr. Thanujeni Pathman, Psychology "Children's Learning & Memory in Lab-based & Naturalisitc Settings".
Faculty Panel Discussion:  "Creative & innovative approaches to child and youth research", with Dr. M. Angeles Cerezo, Visiting Scholar, University of Valencia, Madrid, Spain; Dr. Alison Macpherson, Kinesiology and Health Sciences and Dr. Desmond Ellis, Sociology Department, York University.
Graduate Student Presentations:
Samantha Chan, Psychology: "Exploring the associations between quality of a previous romantic relationship, emotion regulation and post-breakup depressive symptoms in adolescence"
Amanda McKinnon, Kinesiology: "Positive Youth Development: Adopting a new perspective for understanding the developmental outcomes associated with sporty participation among youth with disabiities"
Vrati Mehra, Kinesiology: The association between Alcohol, Marijuana, Illegal Drug Use and Current use of E-cigarettes among Youth  and Young Adults in Canada: Results from Canadian Tobacco, Alcohol and rugs Survey 2017"
Elizabeth Wanstall, Psychology: "Estimations of competence in neurodevelopmental conditions: A review.
Marette Adbelmaseh, Psychology: "I-SPARX: Using Inuit Qaujimajatuqangit to Engage Nunavut Youth in Designing their own e-Wellness Tools"
Poster Presentations
Mariami Bimm: "The digital shift: Examining the evolution of mobile devices"
Tracy Lauren Fabri: "Psychological Effects of Concussion Among Varsity Athletes"
Vanessa Foot-Seymour: "Using cognitive strategies to enhance learning of statistical concepts"
Asvini Keethakumar: "Identifying the prevalence and predictors of utilizing cannabis among middle and older aged adults in Canada: A cross-sectional analysis from the Canadian Tobacco, Alcohol and Drug Survey"
Annie Mills: "Program evaluation of a peer to peer group counseling program for parents of children with autism in the South Asian community"
Monica C. O'Neill: "Can parent and infant behaviors during vaccination tell us about preschool attachment status?"
May, 2019 - LaMarsh Research Lab Session with Visiting Scholar Professor M. Angeles Cerezo: "New approaches to maternal sensitivity: child attachment predictors and practical implications".   Professor  Cerezo is Chair of Psychology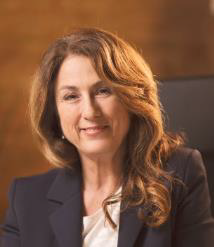 at the University of Valencia.  She received her Ph.D. at the University of Madrid.  As a Fulbright Scholar, she received her post-doctoral research training on the topic of parenting and parent-child interaction with disadvantaged families at the Child Behaviour Institute with Dr. Robert G. Wahler at the University of Tennessee, U.S.A.  Dr. Cerezo's most recent publication: Cerezo, M.A. Pons-Salvador, G., Trenado, R.M. & Sierra-Garcia, P. (2019). The temporal dimension in maternal sensitivity predicting organized attachment in children: a non-linear dynamic perspective.  Nonlinear Dynamics, Psychology, and Life Sciences, 23(1), 1377-171.
March, 2019 - Student Wellness Workshop: "Are you feeling Burned Out?" - A student-engagement workshop coordinated by the LaMarsh Leadership Representatives, Bianca Bondi, Attia Khan and Justeena Zaki-Azat.
Dr. Louise Hartley, York University Psychology Clinic, "Student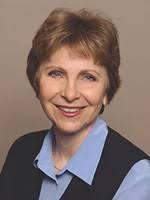 Burnout and Self Care"
Dr. Gordon Flett, LaMarsh Research Centre, "The Cost of Perfectionism in Students: How to combat burnout, procrastination and underachievement
Michael Sa'd, York University Counseling & Disability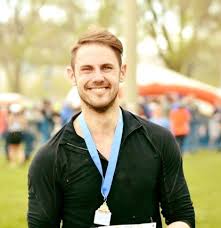 Ben Diplock, Graduate Student, "Mindfulness-Based Meditation"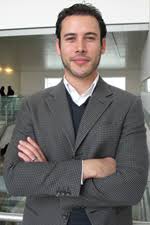 February, 2019 - LaMarsh Talk: Dr. Jonathan Weiss, Psychology Department, Faculty of Health: "Supporting mental health in people with autism: science and practice".
February, 2019 - LaMarsh Talk:  Dr. Nazilla Khanlou and Dr. Attia Khan, (Ph.D. candidate): "The barriers and challenges of racialized and immigrant families with children and youth with developmental disabilities"

2018
October, 2018 - LaMarsh Talk:  Adam Akpik "Inuit Awareness: History and Cultural Competency." Adam Akpik was born and raised in Iqaluit, Nunavut and graduated from Nunavut Si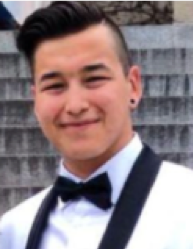 vuniksavut in 2016, an Advanced Inuit Studies college program affiliated with Algonquin College and located in Ottawa.  He currently works for the Inuusiq - Embrace Life Council, a territorial life promotion organization that provides suicide prevention, postvention and intervention training, with the mission of encouraging the people of Nunavut to value and embrace life.  Adam is also highly engaged and passionate about Inuit and Indigenous issues and has interests in Nunavut and Canadian policiews.  In addition to being the Project Development Coordinator at Inuusik/Embrace Life, he is also a youth representative with FRAYME's Advisory on Youth Matters.  FRAE is a global network linking and supporting youth mental health care systems.
October, 2018 - LaMarsh Talk: Dr. Naomi Andrews:  "A Relational Perspective on Research and Evaluation in Community-Based Settings: Experiences from a Healthy Relationships Intervention Initiative". Dr. Naomi Andrews is a postdoctoral fellow at Mothercraft's Breaking the Cycle program and the LaMarsh Centre for Child and Youth Research at York University. She obtained her PhD from the T. Denn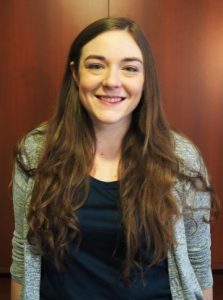 y Sanford School of Social and Family Dynamics at Arizona State University. Her research has focused on children and adolescent's involvement in problematic social behaviors, including bullying, aggression, victimization, and delinquency. From the lens that these problem behaviors are inherently social phenomena, she has focused on disentangling the complex social relationship processes that underlie problem behaviors. Currently, she is working on transferring this relational focus to an applied setting through, for one, working on Building Connections: Supporting Community-Based Programs to Address Interpersonal Violence and Child Maltreatment. She is interested in better understanding how healthy and unhealthy relationships impact children's development, and how relationship focused interventions can be used to support at-risk populations.
November, 2018 - LaMarsh Talk:  Dr. Dilys Haner, "Chat Counselling with Adolescents through Kids Help Phone/Jeunesse J'ecoute: Important Tips and Tricks for text-based therapeutic Intervention". Dr. Dilys Haner is a recent graduate of the York University clinical-developmental psychology program.  She is in supervised practice at London Family Court Clinic where she consults to several group homes and provides therapy and tre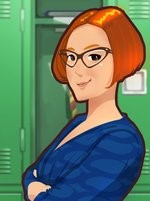 atment to children, adolescents, adults, and families involved in the court system.  Previously, she worked for 12.5 years at Kids Help Phone/Jeunesse J'écoute, initially as a counsellor, and then as the senior manager of clinical research and development.  During this time, Dilys wrote the first evidence-based training manual for "Live Chat" counselling with adolescents.  She was briefly known as "Dear Dil" from the LongStory Game and "Counsellor Dilys" on TV Ontario.  She has conducted program evaluation for KHP/JJ, Good2Talk, BroTalk, Scouts Canada, and Tapestry New Artist Works.  Dilys' passion is for conducting research in real-word organizations and the intersection between technology and help-seeking in youth.
December, 2018 - Dr. Eric Jackman Lecture, "Youth Homelessness".  LaMarsh Centre for Child and Youth Research at York University, together with United Way Greater Toronto co-hosted this event.  Keynote speaker:  Stephen Gaetz, Director of the Canadian Observatory on Homelessness & Professor in the Fac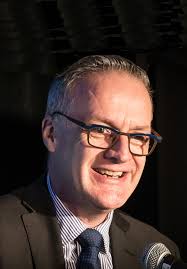 ulty of Education, York University.  Special guest panelists included community leaders from the non-profit sector and York University.  This unique partnership is part of York University's goals for knowledge mobilization and community engagement and is generously supported by Dr. Eric Jackman through the Jackman Foundation.  The Jackman Foundation has a special interest in human psychology and child development.
2017
Dr. Eric Jackman Lecture: Keynote address: Dr. Gordon Flett, Director, LaMarsh Child and Youth Research, "Why 'Mattering' matters: The importance of feeling significant, at home, in school, in the community and at work". This lecture was sponsored by York University and United Way Toronto and York Region:   This unique partnership is part of York University's goals for knowledge mobilization and community engagement and is generously supported by Dr. Eric Jackman through the Jackman Foundation.  The Jackman Foundation has a special interest in human psychology and child development.
Michael Johnny, Gordon Flett and student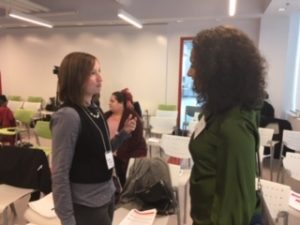 Graduate students, Alison Flett and LaMarsh Leadership award recipient Justeena Zaki-Azat
September, 2017 - LaMarsh Talk:  Dr. Christine Till, "Addressing the controversies about exposure to fluoride and child behavioral outcome".Community water fluoridation refers to the controlled practice of adding fluoride to drinking water for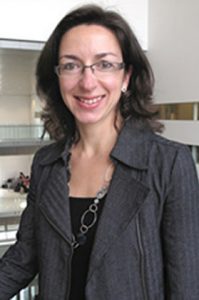 the prevention of tooth decay.  Most of the research supporting water fluoridation is now decades old and there is ongoing controversy as to its safety and risks.  This talk discussed the current controversy related to the efficacy and safety of this public health intervention, with particular focus on early life exposure to fluoride.  Dr. Till presented ongoing research that is using data from a national pregnancy cohort study: "Maternal-Infant Research on Environmental Chemicals" to test whether early life exposure to fluoride adversely impacts cognition and behaviour in Canadian children.  This talk also discussed fluoride and health-related research that is being conducted on two other population-based cohorts.
May 2017 - LaMarsh Talk:  Dr. Rebecca Bassett-Gunter:  "Physical Activity Among Children with Disabilities: Motivating Supportive Others".  Dr. Rebecca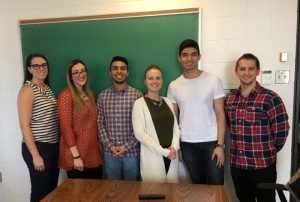 Bassett-Gunter is an Assistant Professor in the School of Kinesiology and Health Science.  Her research is focused on understanding and supporting psychosocial predictors of physical activity.  She is particularly interested in promoting physical activity among special populations including children and youth with disabilities.  Lab Photo:  Lauren Tristani, Victoria Larocca, Syed Ali, Dr. Bassett-Gunter, Khalad Maliyar and Robert Ruscitti (missing, Luma Ayyoub).
April, 2017 - LaMarsh Talk:  Dr. Maggie Toplak, "The development of rational thinking: A longitudinal follow-up".  Dr. Maggie Toplak is an Associate Professor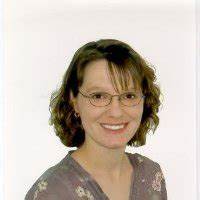 of Psychology in the Clinical Developmental area.  Her research interests are child and adolescent psychopathology, particularly attention problems.  Her training and research interests span cognitive science and clinical research.  Dr. Toplak is interested in studying cognitive science models of rational thinking and decision-making in typically developing samples and in developmental psychopathology.  Dr. Toplak was awarded the Service Award for Established Career at York University (2015).
March, 2017 - LaMarsh Talk:  Dr. Rebecca Pillai Riddel, "Powerful speaking for researchers: making your message go further".  Dr. Pillai Riddell is a York Research Chair in Pain and Mental Health in the Department of Psychology, Faculty of Health.  She is the creator and director of a multidisciplinary and multi-stakeholder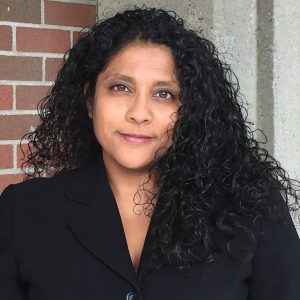 learning event called PICH2GO which was funded by the Canadian Institutes of Health Research.  The goal was to create skill development content valuable to both scientists and their research trainees.  Working with collaborators from both TEDxYork and TEDx Calgary, Dr. Pillai Riddell created a mini-workshop adapting established TED strategies for presenting to scientific audiences rather than the traditional lay audience target.  Whether you are an experienced scientific speaker or just starting out, she has easy, yet powerful tips to improve speaking to academic audiences.
2016
June, 2016, LaMarsh Talk:  Dr. Tania Suely Antonelli Marcelino Brabo, "Bullying, violence and mental health of children in Brazil". Visiting scholar, Dr. Suely Antonelli Marcelino Brabo graduated in Pedagogy from the Universidade Estadual Paulista Julio de Mesquita Filho.  She is currently assistant pro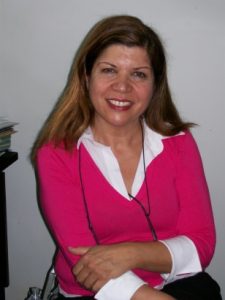 fessor and is interested in the following themes:  democratic governance, human rights, gender, citizenship and education.  She participated in the Teacher Mobility Programme, conducting research with the Education Program for Peace, Nonviolence and Human Rights at the National University of Rosario.  She also conducted a research internship with the Centre for Studies on Women at the National University of Mexico.
2015
Gala Fundraiser - 2015.  The LaMarsh Centre for Child and Youth Research held a Gala Fundraiser in 2015 at Theater Passe Muraille.  Guests enjoyed a play and our inspirational keynote speaker Michel Chikwanine, a former child soldier who shared his experience, strength and hope.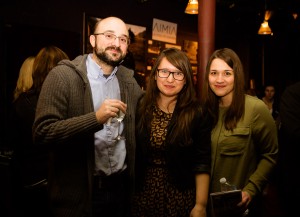 Dr. Antonio Zuffiano, University of Rome, Roxana Grigore, and visiting graduate student Madalina Grigore, University of Rome.
Graduate s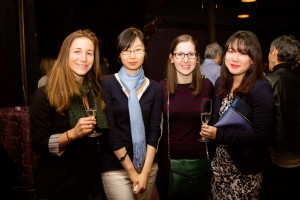 tudents from Dr. Bohr's lab Kayla Hamel, Mingquian Lu, Debra Kanter and Carol Lee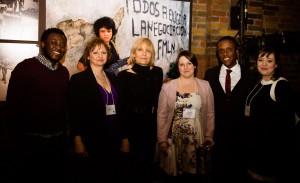 Michel Chikwanine (keynote speaker), Irene Backhouse (LaMarsh Coordinator),  Dr. Yvonne Bohr (Director of LaMarsh), Julia Riddell, Kojo Mintah and Irina Kapler (LaMarsh Leadership Representatives)