When:
October 23, 2019 – October 25, 2019
all-day
2019-10-23T00:00:00-04:00
2019-10-26T00:00:00-04:00
Where:
York University
4700 Keele Street
Cost:
1 day $250, 3 days $875.
Contact:
Irene Backhouse
416-736-5528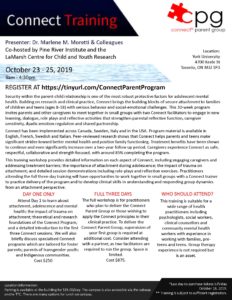 Presenter:  Dr. Marlene M. Moretti & Colleagues. Co-hosted by Pine River Institute and the LaMarsh Centre for Child and Youth Research.
Who should attend?  This training is suitable for a wide range of health practitioners including psychologists, social workers, clinical counselors and community mental health workers with experience in working with families, preteens and teens.  Group therapy is not required but is an asset.
Training Options:  Day one only - $250, Full Three days - $875
Register at https://tinyurl.com/ConnectParentProgram
Location: York University (details to follow)
Parking is available for $15.00/day.  York University campus is easily accessible by subway.
Last date to register is Friday, October 18, 2019