The LaMarsh Centre provides trainees with funding for novel collaborative research into child and youth wellbeing.  At present, there are 3 opportunities for funding:
LaMarsh Graduate Student Leadership Award
LaMarsh Graduate Student Research Award
Dr. Eric Jackman Infant, Child and Youth Scholars Program
2019 - 2020 LaMarsh Leadership Representatives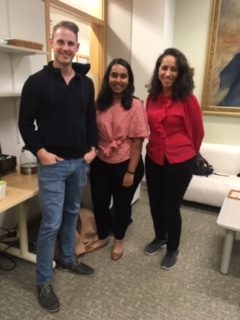 Left to Right: Ben Diplock, Asvini Keethekmar and Justeena Zati-Azat)
LaMarsh Graduate Research Award Recipients
Marette Abdelmaseh:  "Making I-SPARX Fly in Nunavut"
Mariami Bimm: "Literature review prevention and intervention programs for mental health problems and suicidality among Indigenous youths in Canada".
Khadija Bint Misbah: "Preliminary literature review to gain a deeper understanding of factors that influence parenting behaviours among a vulnerable Syrian population."
Bianca Bondi: "The parent-child relationship (e.g., father, mother, parent-child, attachment, parenting style), and the impact on various domains of child neurodevelopment (e.g., brain development, neuropsychology and neuroanatomy).
Maria Boulos: "Syrian refugees in Toronto, investigating the characteristics associated with Family Functioning"
Samantha Chan: "Peer and romantic relationships within a sample of girls in child welfare services using a mixed method design."
Tracy Fabri: "A study to characterize the neurocognitive profile of children seropositive for antibodies against myelin oligodendrocyte glycoprotein (anti-MOG)."
Rachel Lyon: "Neural correlates of mental effort: a systematic review on fMRI and EEG studies".
Annie Mills: "Program evaluation of a peer to peer group counseling program for parents of children with autism in the South Asian community."
Nathania Ofori: "Partnering with a locl Active Start program to gain a better understanding of children's experiences within and perceived outcomes of the program."
Kathryn Pierce: " Identify agencies offering school-based day treatment to children in kindergarten to grade 3 in Ontario to participate in phone-based survey about the services offered and evaluation practices instituted."
Flora Roudbarani: "Examine how mental health care service providers attitudes, knowledge and training may impact how they deliver care for individuals with autism."
Mehra Vrati:  "Prevalence and Predictors of Management of Type 2 Diabetes Among Adolescents and Young Adults in Canada".