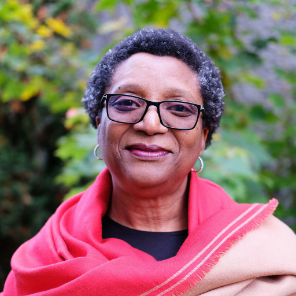 Associate Professor & Tier II York Research in Youth and Contexts of Inequity
Contact
Department: School of Social Work
Email address: anucha@yorku.ca
York U Profile link: https://profiles.laps.yorku.ca/profiles/anucha/
Lab website: https://youthrex.com
Twitter Link: https://twitter.com/actforyouth 
Research Interests
Dr. Anucha is the founding Director of the Applied Social Welfare Research and Evaluation Group. Her scholarship, teaching and professional activity focuses on promoting equity and access for diverse communities within local, national and international contexts. Additional research interests are in Community-Based Research, Homelessness and Under-Housing, Immigration and Diversity, International Social Work, and Critical Positive Youth Development. Dr. Anucha conceptualizes her applied research scholarship as a community dialogue that must fully engage the community studied. She actively seeks to bridge the gap between knowledge production and knowledge use by translating and disseminating research findings to end users (policy-makers and practitioners) using multiple channels. She frequently presents her work in diverse forums that are accessible to communities, agencies and policy makers.
Published Manuscripts (Select Publications)
Anucha, U., Srikanthan, S., & Houwer, R. (2020). Engaging Youth in Research: Lessons from Community-Engaged Research with Urban Youth. Community Practice and Social Development in Social Work, 1-21.
Anucha, U., Srikanthan, S., Siad-Togane, R., & Galabuzi, G. E. (2018). Doing right together for black youth: What we learned from the community engagement sessions for the Ontario Black youth action plan.
Yan, M. C., & Anucha, U. (2017). Working with immigrants and refugees: Issues, theories, and approaches for social work and human service practice. Oxford University Press.
Dlamini, S. N., Anucha, U., & Lovell, A. (2015). Youth Voice Journal.
Giwa, S., James, C. E., Anucha, U., & Schwartz, K. (2014). Community policing—a shared responsibility: A voice-centered relational method analysis of a police/youth-of-color dialogue. Journal of Ethnicity in Criminal Justice, 12(3), 218-245.
Mosher, J., Anucha, U., Appiah, H., & Levesque, S. (2014). From research to action: Four theories and their implications for knowledge mobilization. Scholarly and Research Communication, 5(3).
Nichols, N., Anucha, U., Houwer, R., & Wood, M. (2013). Building equitable community-academic research collaborations: Learning together through tensions and contradictions. Gateways: International Journal of Community Research and Engagement, 6, 57-76.
Mosher, J., Levesque, S., Appiah, H., & Anucha, U. (2013). Mobilizing for Change: Capacity Building for Youth.
Anucha, U., Gorey, K.M., Luginaah, I., Schwartz, K.L., Fung, K.Y., Balagurusamy, M., Bartfay, E., Wright, F.C. and Parsons, R.R., (2013). African American Women Have a Disadvantage When It Comes to Cancer Care.
Dlamini, N., Anucha, U., & Wolfe, B. (2012). Negotiated positions: Immigrant women's views and experiences of employment in Canada. Affilia, 27(4), 420-434.